What is Handmade Artisan Jewelry?
Margaret Donnelly designs and makes all her Artisan Jewelry in her New Hampshire Studio. Much goes into the design and creation of an original piece of jewelry. But have you ever seen all the steps?
The following slideshow depicts the steps required to create one of Margaret's pieces, "Circle of Love." This piece is, in fact, one of the less complex in Margaret's line. Many of her handmade pieces require a great deal of thought and planning (and trial and error) in the engineering and construction of the piece.
The Jewelry-Making Process
Jewelry on the Donnelly Arts Etsy Shop
Visit the Jewelry section on the Donnelly Arts Etsy shop to see all the latest available handmade jewelry by Margaret Donnelly.
Copper Artisan Jewelry
$25.00 USD

$135.00 USD

$49.00 USD
Circuit Board Series
$85.00 USD

$95.00 USD

$99.00 USD

$95.00 USD

$90.00 USD

$90.00 USD

$45.00 USD

$65.00 USD

$79.00 USD

$79.00 USD

$79.00 USD

$79.00 USD

$79.00 USD
Polymer Clay Jewelry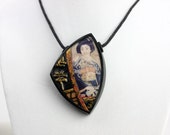 $90.00 USD
One-of-a-Kind Pieces
Are you looking for a one-of-a-kind piece of jewelry? Contact us and find out more about our commissioned work.